CAPS FOR SALE and the Mindful Monkeys
Caps for Sale & The Mindful Monkeys is the second posthumous book from Esphyr Slobodkina based on her story ideas and written materials shared with Ann Marie Mulhearn Sayer throughout their seven years as friends and business associates prior to Esphyr's death in 2002.
The book is considered the fourth in the Caps for Sale series. (Circus Caps for Sale is considered the first). Caps for Sale & The Mindful Monkeys continues the story, picking up right where More Caps for Sale left off.
Mimicking the artistic style Slobodkina used for Caps for Sale, Sayer used Adobe Photoshop as a collage technique to layer Slobodkina's original drawings of characters and objects into each illustration. Every tree, chair, lamp, building, cap and, of course, monkey, was produced using Slobodkina's original art.
By way of example, although most of the images were scanned from Caps for Sale illustrations, the Peddler's bed and some of the people were extracted from Circus Caps for Sale, the house from Jack and Jim, furniture from Moving day for the Middleman's, the banana from Slobodkina's oil painting Still Life with Fruit, and the children from four other Slobodkina stories.
About the Title
Most dictionaries describe the word "mindful" as "being aware of something that may be important" and "to observe, to notice."
Throughout all the Caps for Sale books the monkeys are noticing what is happening just as it is happening. They focus on the world right around them. Because they are being mindful, they do not think about yesterday or tomorrow and this gives them an amazing ability to pay close attention. In this story, the monkey's mindfulness really helps out. Because they watch the Peddler, they learn to do something very well and help out their new friend.
It was Slobodkina's wish that all her children's books remain in the public eye. To that end in Caps for Sale & The Mindful Monkeys Sayer adds a few new characters to the series.
Essie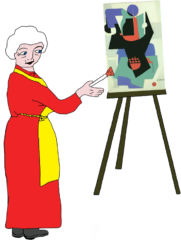 In homage to Esphyr Slobodkina, Sayer presents "Essie" a metaphor of Slobodkina (age 86-94), who was a celebrated author, prolific artist and writer who lived and worked with enthusiastic energy well into her 90s. The illustration of "Essie", drawn by Esphyr Slobodkina for her children's book entitled The Condominium Cat, loosely depicted a composite character of Slobodkina and her sister Tamara (ages 78-86) during their years living in Florida. Sayer chose the name 'Essie" based on fond memories of Slobodkina-friend, business associate and mentor. During the years Slobodkina and Sayer lived and worked together Sayer journaled "daily notes" of their activities, printed a copy with the heading "ES" and left it on Esphyr's bedroom desk nightly for her to find upon waking.
"Its great fun to have been able to bring my great friend Esphyr into the stories interacting with her beloved Peddler. I think of 'Essie' (a few age lines were added to Slobodkina's orginal drawing) as my tribute to Esphyr who constantly inspired people to be productive at every age. Additionally, in recognition of Slobodkina's contribution to American Art, an image of a well-known Slobodkina painting will always be featured on her easel."
In Caps for Sale and the Mindful Monkeys, an abstract entitled "The Pot-Bellied Stove" (c.1936-37) is featured. Considered one of Slobodkina's most important works, it is part of the permanent collection of The Metropolitan Museum of Art in New York.
Other new characters in the story include:
The Children


The children who appear near the end of Caps for Sale and the Mindful Monkeys were selected from four different Slobodkina books. They all have adventures with the Peddler and the 16 monkeys in future stories: Jack is from "Jack and Jim" (c.1961), Ayesha is from "Behind the Dark Window Shade" (c.1958), Rose Petal is from "The Flame, the Breeze, and the Shadow" (c.1970) Billie is from "The Condominium Cat" (c.1987).
Although the stylization of Slobodkina's illustrations changed according to her personal persuasions through the decades, Sayer felt it was important that the drawing of each child remain as they appeared in their own stories.
Scaramouche the Cat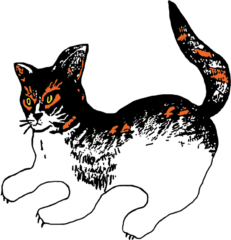 Scaramouche was the name of Slobodkina's real-life cat, and over the years she illustrated him many times. Scaramouche appeared most notably in Slobodkina's children's book entitled The Condominium Cat.
Spotty the Dog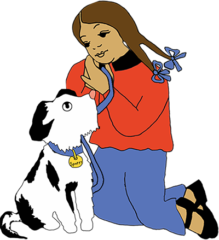 Spotty the dog appears in two Slobodkina children's books: Spots Alias Prince (c.1944) and Jack and Jim. (c.1961)
In this book the playful monkeys who wore the peddler's wares in Caps for Sale just won't leave him alone. As he walks through the streets selling his caps, the monkeys follow behind him, and as he walks back home at the end of the day, they trail along too. All in step.
The Peddler is tired of their trouble, but when he asks his friend Essie for advice, she thinks he should give them one more chance before deciding they're no good.
So when the Peddler must go out of town to attend to a sick friend, the monkeys have a surprise in store for his return, showing that they might just be more mindful than they appear.
Reviews
PUBLISHERS WEEKLY Book Review
As she did in 2015's More Caps for Sale, Sayer continues to build out the story of Pezzo the peddler and the monkeys that both frustrate and help him. This quietly funny if somewhat drawn out tale, based on Slobodkina's notes and employing her artwork, finds the peddler seeking advice from his friend Essie (herself a tribute to Slobodkina) on how to handle the monkeys.
"Sometimes what we don't want is exactly what we need," Essie tells the peddler. And she's right: when Pezzo is called away to visit a sick friend, the monkeys, who have been attentively watching him make caps, step in to create more wares for him to sell the next day. A closing spread fills in valuable context about some of the tertiary characters that appear in the story, which can be traced to other books from Slobodkina's bibliography. Ages 4–8. Agent: Kirsten Hall, Catbird Agency. (Aug.2017)

Lesson Plans for Caps for Sale and the Mindful Monkeys
PK-07 - Monkey Match
This lesson can be simplified by choosing objects that are much different in appearance (for example, trees, flowers, the sun, etc.).
PK-08 - Helping in the Classroom
This lesson is written to be taught after classroom expectations have been established, but it can be modified to serve as an introduction to creating classroom expectations.
K-06 - Make a Prediction
For this lesson, students are making an educated guess rather than a creative piece of writing/art. Students should try to discuss their ideas with their peers using as much evidence and reasoning as possible.
K-07 - How to be a Helper
Students should focus on finding text evidence for their answers in this lesson.
GR1-06 - "So What?" Narrative
This lesson can be differentiated depending on student writing and verbal abilities.
GR1-07 - So What Illustration
Students should use their own writing as the inspiration for their illustration. Students can work individually or with partners, particularly in cases where the predictions for the story are similar.
GR2-05 - Essie and the Peddler
Students who struggle with can complete the written portion verbally instead of the Venn diagram. The word bank can be simplified or made more complex depending on student ability.
GR2-06 - Essie's Advice
Groups of three work well for this activity, as students can bounce ideas off of each other, building on the previous suggestions in the conversation.
GR2-07 - Send a Helper Monkey
The key to this lesson lies in students understanding that the monkeys' observations and close attention to Pezzo helped them understand him.