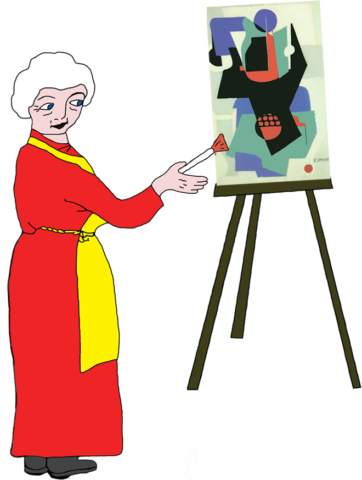 Essie is the Peddler's good friend. She has known him for many years. Although Essie is much older than the Peddler she is in excellent health. She is also very wise.
Essie is a painter and a well-known artist. Her art can be found in many museums. Even though Essie's hard work has made her a success, she prefers to live a simple life.
Although Essie can paint and draw the people and objects she sees around her, Essie prefers to paint as an abstract artist. Abstract artists draw, paint, or sculpt shapes and colors that are not easy to recognize or understand. They do whatever they feel like and sometimes when we see the work we don't know what it is at all. And this is what Essie likes to do.
Essie lives up the hill from the Peddler. Her house is in the woods a bit and her backyard has a winding path that leads down to the sea.
When the Peddler comes to Essie for advice, which he does often, she always remains calm and thinks long and hard about what can be done to help solve his problem.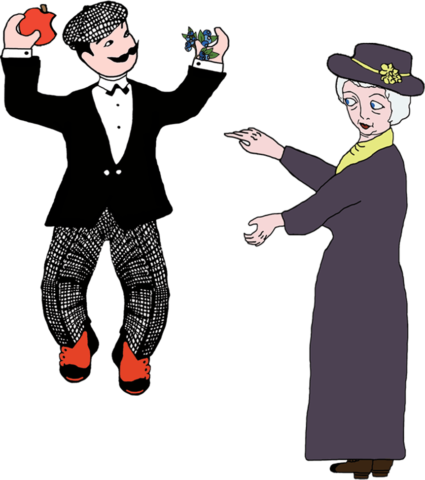 Note for Parents & Teachers
Introduction to this new character:
The illustration of "Essie," drawn by Esphyr Slobodkina for her children's book entitled The Condominium Cat, loosely depicted a composite character of Slobodkina and her sister Tamara (ages 78-86) during their years living in Florida.
In homage to Esphyr, Ann Marie presents "Essie" as a metaphor of Esphyr (age 86-94), who was a celebrated author, prolific artist, and writer who lived and worked with enthusiastic energy well into her 90s.
Ann Marie chose the name "Essie" based on fond memories of living and working with Esphyr over many years.
In recognition of Esphyr's contribution to American Art, an image of one of her paintings will always be featured on her easel. In Caps for Sale and the Mindful Monkeys, (the first story in which Esphyr appears), an abstract entitled "The Pot-Bellied Stove" (c.1936-37) is featured. Considered one of Slobodkina's most important works, it is part of the permanent collection of The Metropolitan Museum of Art in New York.