Welcome to the Slobodkina Foundation's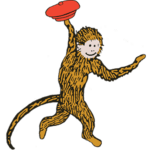 Dear Educators (and by educators we mean parents, teachers, librarians, and everyone involved in the schooling of children),
Our website has been designed to be enjoyed by you and your children. Clicking into the various icons you will discover educational tools linked to printable puzzles, games, math pages, coloring pages, and so much more.
There is always a whole lot of "monkey business" going on here!
Children will get the chance to learn the story of How Caps for Sale was Made, learn about Esphyr Slobodkina the author and artist, and all the other characters from Slobodkina's many children's books that are now part of the Caps for Sale series.
The Slobodkina Foundation will host several Contests a year designed for both individual and classroom participation.
Each month we will introduce you to one or two of our sixteen Caps for Sale monkeys!
There's always something new to discover in The Dark Forest….as well as in Monkeys of the World, and The Coloring Pond where children have fun learning the colors of fruits and vegetables…taught by the monkeys of course!
Our site is an ongoing project for us. We are dedicated to enhancing the visitor's experience by adding something new every month.
Educators, please join our email list and share this website link with your students so everyone has the chance to join in our first Contest.
CLICK HERE to download an entry form to give your students.
We look forward to hearing from you soon!


The Caps for Sale Team