Instructions for Contest 1
Color the page and tell us what the Peddler is thinking.
Send us your picture in an email along with your thoughts of what the Peddler may be thinking.
You can send your picture by scanning and emailing or take a picture with your phone and send it that way. Don't forget to include in your email what you wrote about the Peddler.
Winners will receive a Caps for Sale t-shirt and the full set of books from the Caps for Sale series!
Download the picture on the left by clicking on it.
Upload your contest entry to us.
All entries must be received by October 31, 2019.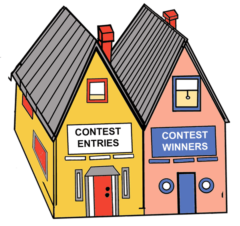 Click on the CONTEST ENTRIES house often to check for all submissions.